I hope each of you had a blessed day celebrating in the birth of the Savior. May the merriment of the season be with you throughout the year, for there is no improper time to rejoice in His love!
Christian got a new bouncer seat.
And a new pair of socks from our big cousin.
The tree was beautifully decorated.
There were lots of snowflakes.
(I broke it one year...oops.)
My friend gave me this lovely one a few years ago.
And, of course, the true meaning of Christmas--caroling chickens!
Ever since I can remember we've had this chicken coop chorus that clucks to the tune of Jingle Bells.
The actual true meaning of Christmas... though it's a bit hard to see Jesus.
Earlier in the day it rained, but as it grew darker and colder the rain turned to snow.
It was a historic day--the first white Christmas in the area since 1993, and the first white Christmas with a measurable amount of snow since 1882.
I'm not quite sure what the total was when it stopped snowing. I think a bit under three inches.
In 1882, there were point three inches.
I greatly miss life up North, so I welcomed the snow.
And threw it... blatantly missing my target. That's why I never played softball.
It was funny--and kind of just wrong--to see snow on the pampas grass.
The next day was wintry bliss.
Lucy, on the other hand, was not thrilled at the snow. She ventured out of the shelter only to seek her meal.
TyTy wasn't fond of the snow either.
The dogs, however, loved it.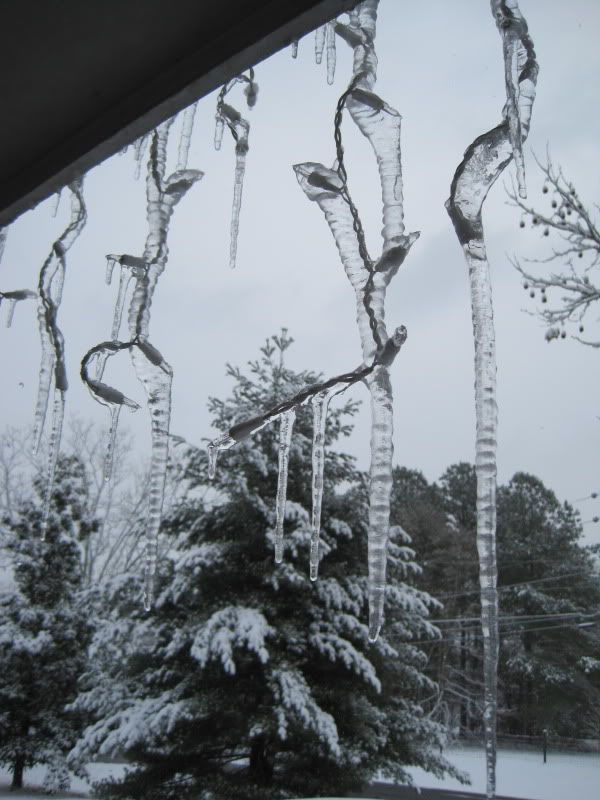 Icicles on the icicle lights!
...And I should probably quit now with the pictures.
And an angel of the Lord suddenly stood before them, and the glory of the Lord shone around them; and they were terribly frightened.
But the angel said to them, "Do not be afraid; for behold, I bring you good news of great joy which will be for all the people;
for today in the city of David there has been born for you a Savior, who is Christ the Lord."